TENSION & COMPRESSION
CAPACITIES TO: 500 lbf / 250 kgf / 2500 N
MOTORIZED TEST STAND CONTROL
ADVANCED FIRMWARE FEATURES
BI-DIRECTIONAL RS232 OUTPUT
NEXYGEN GAUGE SOFTWARE
ACCURACY: ± 0.1%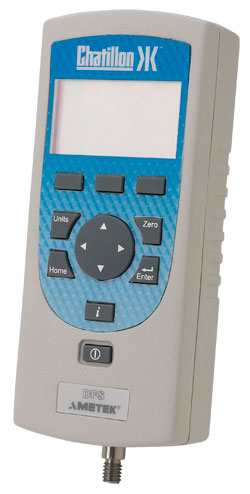 Model DFS - Digital Force Gauge
The Advanced Chatillon® DFS Digital Force Gauge combines the basic versatility of its companion DFE Force Gauge with added firmware for use as the primary control of Chatillon motorized test stands. Mounted on the Chatillon TCM orTCD, the DFS provides force set points, pass-fail limits, break detection, contact closure force, statistical calculations, force averaging, load comparison as well as instantaneous and peak detection.
The DFS features ± 0.1% accuracy to 500 lbf / 250 kgf / 2500 N. The dot-matrix LCD features large 0.5" numerals, 7 information text lines and a bar graph. Five force units are selectable: lbf, ozf, kgf, gf and N.
All DFS Digital Force Gauges provide RS232, analog ± 2Vdc and Mitutoyo outputs and include the required computer interface cable.
Chatillon Nexygen Gauge Software provides graphing force versus time and logging tabular for reports with Excel, Word, Access, Powerpoint and Outlook..
CONSTRUCTION
Rubber keypad with dedicated and dynamic keys and navigation pod.
4 1/2'' digit 0.5'' LCD display.
Split housing for upright display with shaft up or down.
American standard threads on load shaft and mounting holes.
OPERATION
Controls the TCM and TCD motorized test stands.
Advanced material testing software: break detection, first and ultimate peak,
load averaging and comparisons, statistical calculations, etc.
Bi-directional RS232, Mitutoyo and ± 2 Vdc analog.
Selectable baud rates: 4,800 to 115,600.
Peaks captured at 5,000 samples/second.
Display update rate: configurable 2 Hz or 8 Hz.
Overload protection: 150% of full scale.
Selectable units of force: lbf, ozf, kgf, gf or N.
POWER REQUIREMENTS
Rechargeable NiMH battery for 30 hours of operation.
Continuous operation with 110 or 220 Vac adapter/charger.
ACCESSORIES
Included: NiMH battery, AC adapter/charger, six implements, case, manual and RS232 cable. NIST Calibration Certificate with data and Nexygen software.
ACCURACY
Accurate to ± 0.1% of Full Scale, ± 1 Least Significant Digit
WEIGHT & DIMENSIONS
1.5 lb [0.7 kg], Shipping Weight: 3 lb [1.4 kg].
7'' [180mm] H x 3'' [75mm] W x 1.6'' [40mm] D.