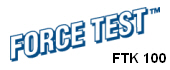 TENSION & COMPRESSION
CAPACITY: 100 lbf / 50 kgf / 500 N
11" VERTICAL TRAVEL
LARGE 10" X 10" PLATFORM
LEVER OR HANDWHEEL
RIGHT OR LEFT HAND DRIVE
Made in America, the FTK 100 Force Test Stand provides low cost manual tension and compression testing to 100 lbf / 50 kgf. It features lever or handwheel elevating mechanism and accomodates digital or dial force gages.
The FTK 100 is specifically designed for use with either the FDIX Digital Force Gage or the FDK Dial Force Gage. When used with the FDIX, computer interface and various useful software features are available.
The 10" x 10" platform provides stability and a large
6" x 10" testing area with 3" horizontal clearance and
11" vertical travel.
The FTK 100 elevating mechanism locks in position with a knurled head screw and right or left hand operation is available by moving the lever or handwheel to either side. A grid of nine #10-32 mounting holes are provided on the 6" x 10" test area.
The Force Test™ FTK 100 is also available as the STK100 Compact Digital Spring Tester.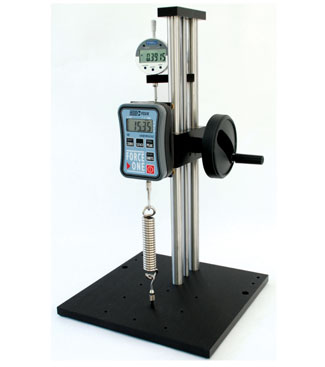 Force Test™ FTK100W
Handwheel Drive